To:

California Latino Legislative Caucus
Save Lives - Support AB 392 #LetUsLive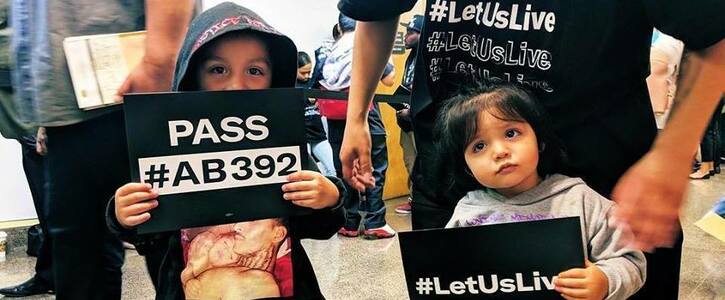 Latino Families, Leaders, and Organizations Call on the CA Latino Legislative Caucus to Protect Our Communities From Police Violence
Based off data collected by the California Department of Justice, of the 172 people killed by law enforcement in California in 2017, 50% were Latino. According to the U.S. Census, 39% of Californians identify as Hispanic.
We are being disproportionately killed by law enforcement officers across the state, and our people are being criminalized, racially profiled, and deported on a daily basis. We are calling on all members of the California Latino Legislative Caucus to stand with families of people killed by law enforcement and support AB 392.
Why is this important?
Across California, Latinx families are grieving and suffering the trauma and pain caused by losing loved ones at the hands of police violence. AB 392 is supported by hundreds of victims' family members and Latino-led organizations. California Latinxs have marched on the streets in San Diego, Los Angeles, the Inland Empire, Bakersfield, Salinas, San Jose, Oakland, Sacramento, and many other parts of the state. We have lobbied in the Capitol, sent in hundreds of letters, and made thousands of calls to our representatives in support of AB 931 and now AB 392.
This bill is being introduced less than a year after Assemblymember Shirley Weber introduced AB 931, a common sense legislative proposal that would have updated a weak and dangerous use of force standard that was established in 1872 - 137 years ago, the oldest in the nation! This minimal California use of force standard was passed in order to protect racialized state violence at a time when our state had the highest lynching rates in the nation - largely perpetrated by law enforcement on Mexican and Native people - including the genocide of indigenous Californians, which resulted in the murder of 90% of Native Californians.
AB 931 was stalled in the legislative process in 2018, but the California Let Us Live Coalition decided that in order to protect Black and Brown people from being killed in our communities then we needed to raise it again in 2019.
The California Act to Save Lives (AB 392) will reduce and prevent use of force resulting in homicide and also ensure that officers avoid the use of deadly force unless it's in response to an imminent threat of death or serious bodily injury. AB 392 is modeled after best practices already in place in a number of departments across the country – practices that have already been proven to reduce deadly use of force. You can find out more by downloading the fact sheet here.
Specifically, AB 392 will:
- Clarify that police should use deadly force only when there are no reasonable alternatives.
- Require de-escalation whenever possible.
- Hold officers accountable when deadly force wasn't necessary to prevent death or serious bodily injury and when the officers' conduct created the circumstances that led to deadly use of force.
Latinx-based organizations and self-identified individuals stand in solidarity with black and indigenous communities who are killed at the highest rates by law enforcement and urge you to protect our communities and take action for our families.