To:

Secretary Mayorkas
Designate New TPS Humanitarian Protections for Central Americans!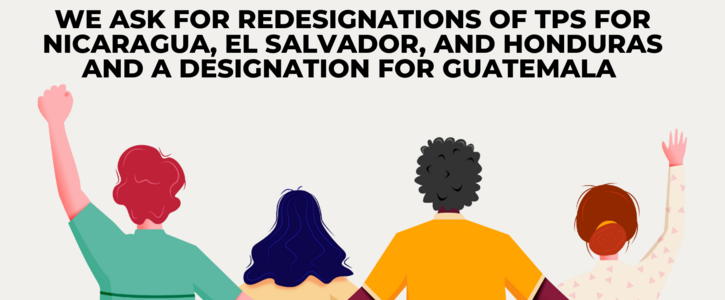 Issue redesignations of Temporary Protective Status (TPS) for El Salvador, Nicaragua, and Honduras and a new designation for Guatemala.
As you very well know, El Salvador, Nicaragua, Honduras, and Guatemala were hit by the devastating impact of hurricanes Eta and Iota in late 2020 resulting in extraordinary escalation of conditions in these nations. The hurricanes destroyed homes, public infrastructure, and health care systems, and crushed the agricultural sector which is the predominant occupation of the people.The political crises, human rights abuses, the pandemic's exacerbation of economic downfall, and lack of adequate access to food, water, and health-care prevent nationals from returning safely. These conditions warrant the granting of a new TPS designation for Guatemala and redesignations for El Salvador, Nicaragua, and Honduras.
The human costs in Central America are heartbreaking and we urge your administration to take swift action to protect migrant families.
Why is this important?
Over the years we have seen how much immigrants have been affected by unjust immigration policies. A designated humanitarian protection that exists in the U.S. for specific undocumented immigrant communities is in jeopardy of being stripped away. This protection is known as Temporary Protected Status (TPS). There are an estimated 354,645 TPS holders in the U.S., with 254,550 being Central American nationals. Under new redesignations, TPS beneficiaries from El Salvador, Nicaragua, and Honduras would have their immigration protections extended for a determined amount of time by Secretary of Homeland Security Alejandro Mayorkas. One thing to know is that there is no pathway to permanent residency status for TPS recipients.
Ahead of creating this petition, Seeds of Resistance/ American Friends Service Committee (FL) launched a letter drive with directly impacted immigrants and refugees outside of the Miramar ICE Facility in Florida in which we denounced the unjust treatment of immigrants and the need for real relief for migrants. In addition, we urged Secretary Mayorkas, President Biden, and Secretary Blinken to redesignate TPS for El Salvador, Nicaragua, and Honduras and issue a new TPS designation for Guatemala.
Secretary Mayorkas has the power to designate a country for TPS when a country is facing the following conditions:
1) Ongoing armed conflict (such as civil war);
2) An environmental disaster (such as an earthquake or hurricane), or an epidemic;
3) Other extraordinary and temporary circumstances that prevent a safe return to a person's country of origin.
During a designated period, individuals who are TPS beneficiaries or who are found preliminary eligible for TPS upon initial review of their case.
1) Are not removable from the United States;
2) Can obtain an employment authorization document (EAD);
3) May be granted travel authorization.
In addition to urging the Biden administration to issue new TPS designations for Central American nationals, we also affirm the need for our government to divest from the immigrant detention apparatus and instead invest in case management programs that help immigrants find legal representation to guide them through the immigration court system, and connect them with other community resources that are successful and more affordable.