To:

United Nations High Commissioner on Human Rights and High Commissioner on Refugees
Launch a UN investigation into US violations of the human rights of asylum seekers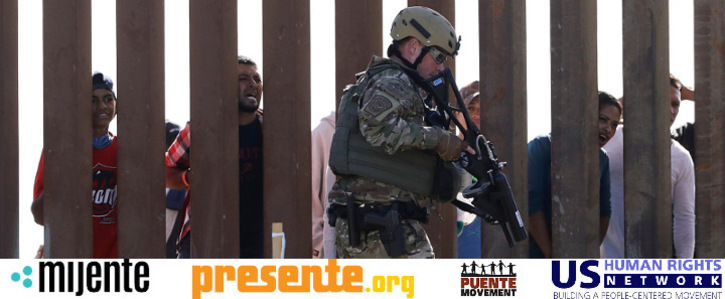 We condemn the US response to a caravan of asylum seekers from South America, Central America and Mexico. The US government has closed a major port of entry, attacked refugee asylum seekers with teargas and rubber bullets and conspired with the government of Mexico to return the asylum seekers to the countries from which they fled.[1]
These actions are in gross violation of international law- including the International Covenant on Civil and Political Rights and the Convention and Protocol Relating to the Status of Refugees- under which the United States government has obligations.
As such, we call for an official investigation of these violations by the United States, conducted by the United Nations High Commissioner on Human Rights (HRC) and the United Nations High Commission for Refugees (UNHCR), and to hold the US government accountable for any such violations.
Why is this important?
As a Member State of the United Nations, the United States government has the moral, ethical and legal obligation to adhere to international law and protect the human rights of the vulnerable.
Article 14 of the Universal Declaration of Human Rights (UDHR) states that "Everyone has the right to seek and to enjoy in other countries asylum from persecution." As such, governments are responsible for protecting people who seek safety in their territory without discrimination on the basis of race, religion, nationality, political opinion or physical incapacity.
As a signatory to the UDHR, International Covenant on Civil and Political Rights; the Convention against Torture and Other Cruel, Inhuman or Degrading Treatment; the International Convention on the Elimination of All Forms of Racial Discrimination; and the Convention and Protocols Relating to the Status of Refugees, the US has international legal obligations to ensure refugees exercise their basic human rights and live securely and with dignity. Moreover, the US has the obligation to ensure refugees right to seek asylum is respected and they are not forcibly returned.
Closing the U.S.-Mexico border port of entry, the use of lethal force, subjecting asylum seekers to forcibly return to their countries where they risk persecution (refoulement), as enacted by U.S. officials in the San Isidro-Tijuana U.S. port of entry on 25 November 2018, are gross violations of international law and the human rights of refugees.
The US government must end its hostile treatment of refugees and uphold its international legal obligations.
This effort is a collaboration between among the US Human Rights Network, Puente Arizona, Mijente and Presente.org.
Reference:
1. "Mexico to deport up to 500 migrants who tried to cross US border." The Guardian. November 26, 2018. https://www.theguardian.com/us-news/2018/nov/25/us-mexico-border-crossing-closes-migrants?fbclid=IwAR1DNsKtC67Evcx2z0GIBAfMv6EHh8_y-7iUFjVQO4P33Hza_lCLSE_z_B0