To:

Florida Governor Rick Scott, Florida Attorney General Pam Bondi, and Executive Director of FL Department of Revenue Leon Biegalski
Call for Seminole County Tax Collector's Immediate Resignation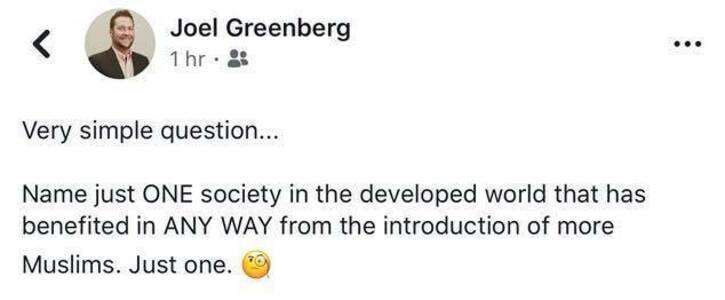 On Saturday, August 18, Seminole County Tax Collector, Joel Greenberg publicly shared Islamophobic content to his social media page: "Name just ONE society in the developed world that has benefited in ANY WAY from the introduction of more Muslims. Just one. Asking for a friend." Greenberg further included in the comments a link by an anti-Muslim site. Sadly, this is not the first time, elected official Joel Greenberg has taken this xenophobia to his Facebook page- he has historically posted Islamophobic commentary.
After several attempts encouraging Greenberg to apologize, and multiple invitations to engage in open dialogue with Muslim leadership and his Muslim constituents- several advocacy groups are calling on Florida Governor Rick Scott, Attorney General Pam Bondi, and Executive Director of FL Department of Revenue, Leon Biegalski to urge the immediate resignation of Seminole County Tax Collector, Joel Greenberg. Additionally, advocates are calling on Greenberg's family business, Greenberg Dental & Orthodontics, to condemn the statement(s).
Why is this important?
Joel Greenberg publicly shared Islamophobic content to his social media page that is harmful and divisive to the Muslim community, misperceived Muslim Community, people of color, moreover for our entire Central Florida community.
Rasha Mubarak, President of Young Democrats of Orange County and civil rights advocate, stated "we refuse to let Seminole County Tax Collector, Joel Greenberg use the Muslim Community as a tool for his political banter. His provocative posts are not new and his responses have been increasingly condescending, inappropriate, and dismissive. Greenberg has previously tried to use his position as an elected official to grant him privilege in getting out of a ticket and yet again, he is abusing his position in office to demean Muslims. His Islamophobic views not only impacts the Muslim community, it disturbs the peace in Central Florida, moreover compromises the safety and inclusivity across the state, and our country as a whole. We reject the xenophobia against all of our underrepresented communities. There is no room for any kind of discrimination in office. We will continue to stand up against hate, no matter who spews it."